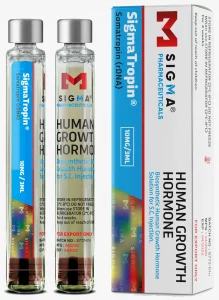 What is Sigmatrophin?
Somatropin is a significant form of human growth hormone for muscle and bone development. In children and adults without a natural growth hormone, somatropin is used to cure growth failure. The treatment of short bowel synchrony or severe loss of weight associated with AIDS is also treated by Somatropin in adults.
Medical uses of Sigmatrophin?
Somatropin is an American Food & Drug Administration (FDA) approved medicine for several applications but used mainly to treat childhood growth conditions and adult hormone deficiency. Somatropin in people with HIV, and is FDA approved for the treatment of HIV wasting or cachexia.
Benefits of Sigmatrophin?
Some of the greatest benefits Somatropin of are:
Progressive body fat loss

Improved growth of the muscle

Enhanced training capacity 

Strong bones

Cognitive skills and moods improved

Erectile function restore

Reduced risk of heart disease

Strengthening the immune system
How to use Sigmatrophin?
Before you take this medication, you should always consult your doctor so that you can recommend the optimum dose needed for you. Somatropin is recommended for adults at doses of 0.15 to 0.3 mg daily and up to 1.33 mg daily.
Side effects of Sigmatrophin?
Common side effects may include:
Swelling;
Rapid weight gain;
Muscle or joint pain;
Numbness or tingling;
Stomach pain, gas;
Headache, back pain; and
Pain, itching, or skin changes where the medicine was injected.